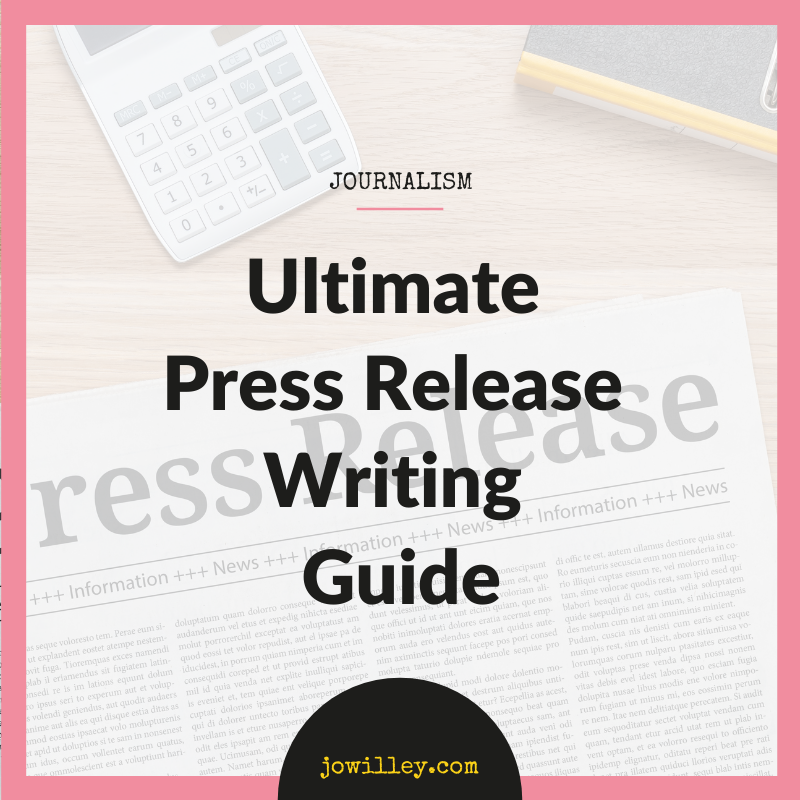 Any business or organisation interested in broadening its reach, sharing its messages and getting "earned" media needs to ensure its press release writing is at the top of its game.
Journalists get bombarded with hundreds of press releases every day. Yours has to stand out. Unfortunately, it's not as simple as just bunging a bit of information on an email and pressing send.
Press releases need to be carefully crafted, newsworthy and relevant if they are to grab a journalist's attention and make the cut. But even if your press release is brilliantly written, if your story isn't interesting or you've buried the interesting bits at the bottom of the release, it won't get covered.
As a national newspaper journalist for more than 20 years, I have read – and spiked – thousands and thousands of terrible press releases. I have also turned thousands of great ones into numerous front page splashes and written ones for clients which have also got them front page coverage.
Here's a snapshot of what I have learned with some examples of how to do it so you can start creating impactful and engaging press releases straight away.
1. Who's your audience?
You should have already carried out extensive audience insights work as a precursor to any media relations activity. Who is your audience and what do they read, listen to and watch? What do you want to make them think, feel or do as a result of any media coverage? Homing in on your specific audience and where they go for their news means you can finely target the relevant media to approach. Sending a press release to a media organisation/journalist who already covers your area gives you a far better chance of getting coverage.
2. What's your story?
What do you want your audience to know? What is your news? Are you a charity launching a new initiative? Are you a healthcare start-up with an innovative new product? Are you a pharmaceutical company with ground-breaking science to talk about?
3. What's your hard-hitting news angle? (Also see Tip 5 below)
Journalists are always looking for the "line" – in other words the most newsworthy bit of information that will form the introduction – and inform the headline – of their story. Making sure this is in your email subject line, headline of your press release and the first paragraph of the press release will capture a journalist's attention, make them want to read more and as long as you provide what they need in the rest of the press release – most likely lead to coverage. It's called a "news hook" for a reason – it has to be creative and engaging enough to "hook" the reader.
4. Get the headline right
The headline has to summarise the story and grab the attention of the journalist so they want to invest their time reading more. Make it short – 8-12 words should do it. Shorter (around six words) for online content. And make it snappy – think of the most impactful way to sum up your story. Learning how to quickly summarise a story in one sentence is a great skill to hone anyway (think social media content, company elevator pitch – you get the picture).
5. Write your "top line"
This is the most important part of the story – the main "announcement" you are making. I used to make a decision about a story from a press release based on what I read in that first paragraph – so make it count. Every journalist needs to know the who, what, where, when, why and how to create their story. Include this in your first paragraph and the chances are they will keep reading. See, you've "hooked" them in.
6. Now for the detail
This is where the inverted pyramid comes in. You've given the most important information at the top, now it's time to back it up with more background information, any relevant statistics, more colour and a strong quote. This can be 2-6 strong paragraphs to ensure you provide more relevant information about the story. Quotes are hugely important, they can make or break a story. I'd pop one in paragraph three or four. But please don't make the mistake the majority of press release writers make – they simply write a quote reiterating what has already been said or doing nothing but plug the company/organisation and how great it is. Make sure the quote adds some different, useful extra context to the story. This is your chance to get some snappy soundbites and emotive, human language into the story. Also, if a journalist can see they already have one great quote to use, your story starts ticking more boxes. Then get back to the inverted pyramid – the lower down the press release, the less important the piece of information should be.
7. Don't forget the Notes to Editors
This is where you can add more information about your company/business/product – in a boilerplate. You can also include any extra statistics and background information (for example about a disease or condition your product is helping/you're raising awareness about). Don't forget to state whether you have images available (NEVER attach images to an email, you'll potentially block up a journalist's email and will be on their blacklist. No one wants a press release that causes an IT disaster in a busy newsroom). And remember to add contact details for who the journalist can email or call for extra information (including mobile phone number). (Top tip: make sure whoever you put as the contact is actually going to be available at the time the press release is sent out. I once rang for more information, the person was on holiday and no one else was able to help. The result? I binned the story).
8. Pitching your press release
Tip one (above) was all about knowing your audience and what they read, listen to and watch. Because your media strategy has included audience insights work (it really needs to), your pitching should be well-targeted, raising your chances of getting your press release in front of the right people. Do your homework. Which journalists are writing about your field/cover similar topics to your story? Be honest with yourself. Is this a local/regional story only or does it have national potential? Is it news or features? It is general news, health, business, consumer, political? Is it for the consumer press or trade? Is there a filming opportunity that broadcast would love? Asking these questions will help you drill down to your target media and then to your target journalists. You also need to be working on building relationships with your key journalists not just for this opportunity but for others in the future.
You then need to sort your email pitch – and press send. Whether to email or call (or both…) is something I have covered in more detail here.
You can get more press release writing tips from me here. If you want me to take a look at your press release or pitch email and give you pointers, get in touch. Or why not let me teach you how to write them and pitch them better yourself?  
Jo Willey Media is a content, training and communications consultancy which offers PR and comms training sessions. Our Ultimate Media Training Day is aimed at agencies, charities and press offices and covers topics including spotting the story (even in complex data), perfecting the press release (and how to write them brilliantly), pitching, maximising media coverage including on social media, and insider insight into the media and what they want/how they work. This can be run as a full day or half day. Or if you just need a power hour on something specific, I can do that too. Contact me today and let's discuss your training needs further.