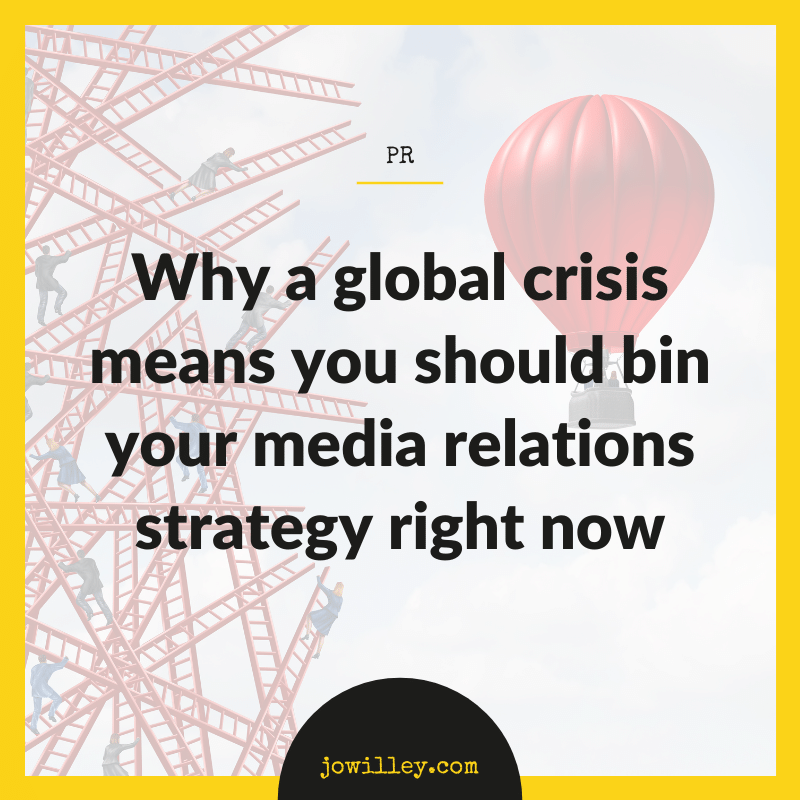 Normally, the key to successful media relations is a robust, well-prepared, well thought out strategy which cleverly weaves proactive work – events, announcements, press releases,  – with reactive opportunities throughout the year. In other words, key moments boosted by a surround sound of supportive noise.
But as Robert Burns famously wrote, "the best laid plans of mice and men often go awry". And never has that been more true than for Media Relations in 2020, when it is anything but normal.
With many preparing their 2020 strategies last Autumn, if not before, never could they have predicted that a global pandemic would hit, sending millions across the world into lockdown.
We all know that when a crisis hits, or when a major national event happens – terror attack, high-profile death – story priorities for journalists shift immediately (and rightly so).
Where once your hard-hitting report may have got extensive national coverage, when a once-in-a-lifetime (we hope) pandemic struck, it quite rightly took centre stage with almost-blanket coverage across the media all day, every day. Almost six months later, the news agenda is still heavily dominated by COVID-19 – the testing fiasco, the development of a vaccine, local lockdowns, The Rule of Six, a second spike, the NHS facing a winter crisis.
But with a much-needed vaccine still being tested and infections rising again, it is clear COVID-19 is not something which is going to simply disappear overnight. Which means it is still going to be taking up airtime and column inches for the foreseeable future.
So how do you keep communicating at a time of national – global – crisis?
You need to update your media relations strategy – no matter how well thought-out it was at the time. We are living in a very different world now. People have changed, their attitudes have changed. You need to adapt and rethink what you are talking about, how you're talking and why you're talking. You need to understand what journalists are finding newsworthy right now and then work out how you can give them something that will cut through the COVID noise.
Here are my top tips for flexing your strategy to get media coverage now.
1)    Check your tone
The media environment has completely changed and so have consumers. Does what you usually say fit with peoples' attitudes "now"? Are you on-message or tone deaf? Make sure your tone is suitable for these changed times and if it isn't – change it. Also ensure any stories you produce have been looked at through a new "COVID-19 lens" – that they are appropriate and relevant for this new normal.
2)    Navigate the news agenda
Don't feel you have to put a COVID spin on everything. If your story has a genuine pandemic link – sell it in on that angle. But don't feel you have to shoehorn your story into a coronavirus-shaped slot. Journalists do want non-COVID stories, but you need to keep the pitch focused to break through the clutter. Make sure your pitch is strong, relevant to them and their publication, is giving them a hard-hitting, new, interesting or unusual angle and tell them why it is newsworthy now.
3)    Find your core journalists
As well as changing what journalists cover, the pandemic has also changed where they are. With lockdown and stringent social distancing rules still in place, the majority of journalists are no longer in the newsroom. This makes them harder to get hold of than ever before. And the bar you need to hit to get a story over the line and gain coverage for clients has been raised dramatically. Your sell-in strategy will need to change if you're going to get hold of your key contacts.
4)    Get to know them better
Having a good relationship with the key journalists you want to target is more vital than ever. Does virtual working mean they might have time for a Zoom? Ask! Try to use this time to get to know them, understand what they are – and aren't – looking for so you can work "with" them to provide great stories. I've got some more tips about building relationships with journalists here.
5)    Humanise your spokespeople
If you're changing how your company speaks, you need your spokespeople to change how they speak too. Healthcare communications has come into its own during this crisis. In my article "Life on the Lockdown Rollercoaster", I quoted The 2020 Edelman Trust Barometer Spring Update: Trust and the COVID-19 Pandemic from May which revealed a strong public demand for expert voices, with people wanting to hear from the most trusted sources of information on the pandemic: doctors (80 per cent), scientists (79 per cent) and national health officials (71 per cent). There is no better time to get your spokespeople media trained and ensure they can communicate important key messages in an authentic way. The media want spokespeople who can give useful context to complex topics and provide factual, accurate commentary. The public don't want to hear robotic responses which evade answering a question. Your spokespeople need to talk with knowledge, authority, authenticity but with compassion, empathy and humanity.
Jo Willey Media is a content, training and communications consultancy which can help super-charge your media relations strategy. I know how the media works and how you can maximise the opportunities available with new angles and insightful, targeted strategies. I also train spokespeople, academics and executives to effectively communicate with the media, delivering key messages with confidence and clarity to make the most of every interview opportunity. Contact me today and let's discuss your training needs further.