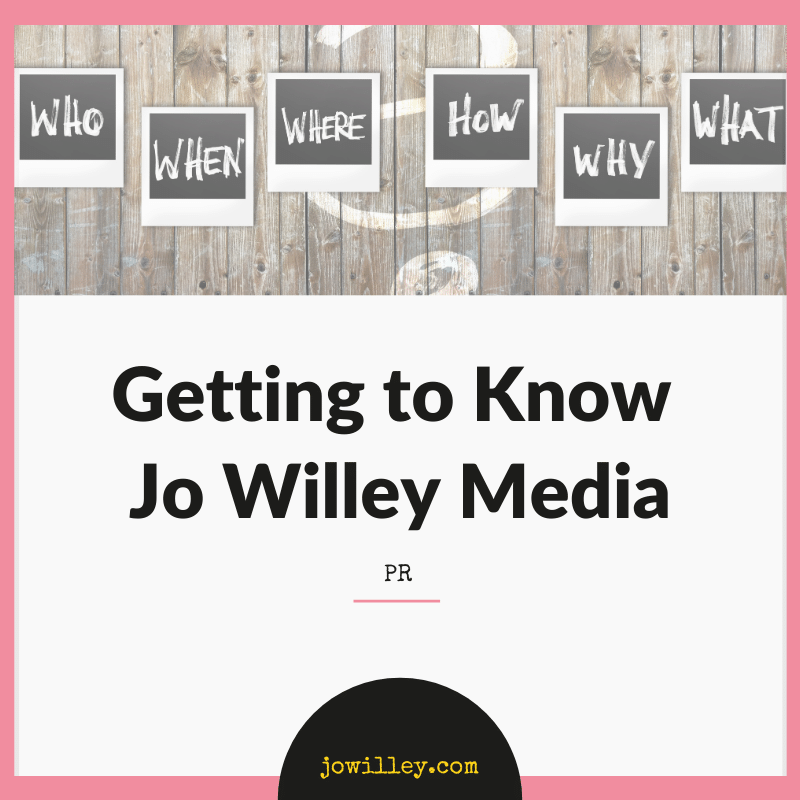 Who is Jo Willey and what is Jo Willey Media?
I love storytelling – and help companies – and individuals – find their story and tell it in the best possible way. Here is my story.
Q: Who is Jo Willey and what is Jo Willey Media?
A: Well, I am Jo, I'm a mother-of-one and live with my family in South East London. I have been a journalist on national newspapers for more than 20 years working on some of the biggest stories from the late 90s onwards both in the UK and abroad. I was a general news reporter for around 16 years at The Press Association, Daily Mail, Sun, Mirror and Daily Express, before specialising in Health at the Daily Express as Health Correspondent and Health Editor.
Jo Willey Media is a content, training and communications consultancy. I firmly believe that brilliant storytelling is the key to all impactful communications and I use my decades of experience working at the forefront of the national news agenda to help companies – and individuals – find their story and tell it in the best possible way to meet the aims they want to achieve.
Q: What types of services do you offer?
A: I decided to leave the newspaper in 2014 after realising there was a huge opportunity for someone with my skills and background to really make a difference in helping companies, brands and charities really tell their stories in new, exciting and impactful ways. I have been writing stories for decades so know exactly how to capture the right words and tone needed to convey messages in the best way. But I am also really skilled at spotting any potential "watch-outs" which could spell disaster if made public. This is absolutely vital for all sectors but particularly for healthcare and science comms.
Being able to channel my writing skills into thought-leading and on-tone messaging is a real thrill for me. Also, my experience of working in fast-paced newsrooms mean I am constantly in-demand to help with media strategy and media training too. I love being able to use what I have learned to help others really smash their comms goals and come brilliant communicators themselves. I also still work as a freelance health journalist when a great story comes my way and pop back into a newsroom every now and again to keep my news nose well-primed!
Q: Does Jo Willey Media specialise in any particular sector?
A: Yes – and no! As Health Editor of a national newspaper, I am now in high demand from healthcare companies as I know the field, the often-complex language and I have experience writing for a lay audience about health and science breakthroughs. However, as a writer and communicator, the same rules that make great health stories and a brilliant media training session apply across all sectors.
Q: What types of clients do you work with?
A: I generally work with a huge range of clients across charities, pharmaceutical companies and healthcare PR agencies. I also work with people across a broad range of levels from upskilling juniors to grilling and producing thought-leadership content for top executives.
Q: What are your strengths?
A: Ooh, it's that horrid question people love to ask in job interviews. I think my strengths lie in my experience. I know my stuff and I am confident in my skills and I absolutely love what I do. I think that experience and passion come across to my clients. I am most definitely a people person and do my best to bring my warmth and friendliness into my work. I am not afraid to voice an opinion (in a newsroom you have to speak up and fight for stories, or certain angles, you believe in), but I also know when to put up and shut up and get on with the job. I am also used to the pressure of ludicrously tight deadlines, so I can write and edit quickly and accurately – skills not to underestimate!
Q: Who is your ideal client?
A: I have worked with some absolutely fantastic people over the years and they have generally been people who really "get" the importance of good content, who want to understand how to best work with the media, who are keen to learn how to engage effectively with the media and who trust me and my experience. Many clients have gone on to become good, personal friends and some even came to my wedding!
Q: How do you deliver your media training?
A: Well, in the "good old days", pre-COVID-19, my training sessions were all done in person. However, now, they have shifted to being online. I think some people worry that they may not get the same level of training. But I have found the opposite is actually the case. It is still possible to give people a great standard of media training virtually.
If you have any further questions about any my services, do please give me a call on 07799 065349 or email on jo@jowilley.com